October 6, 2017
Undefeated Bahamut Chronicle Anime Review (Saijaku Muhai no Bahamut)
Undefeated Bahamut Chronicle is similar to cliche and standard harem ecchi anime series along with the sci-fi and mecha which blend with the fantasy world. And if you think so, you're not totally wrong, because the show is a kind of the show. But as being an action anime series, I really can enjoy the fighting scenes where the camera and angles are so attractive.
However, it's not mean that this anime is a masterpiece or good show, honestly, this anime needs something great or should carry unique concept to become popular. But when we think about ecchi and harem genre, then the show will fall into the same place. People will see it as a trashy anime without a strong plot, and it only focuses on fan-service alone. So, let me tell you something… this anime doesn't have any difference with your standard ecchi and harem show. Despite we can still find a good part of it, but several aspects carry the worst thing ever.
This Undefeated Bahamut Chronicle review will include:
Overview
Parent Guide and Age Rating
Anime Review
Undefeated Bahamut Chronicle is not hard to be classified. When we see it on the action element, it's good, but it isn't good enough for any action fans. But for any harem and ecchi lover, well, you can give this anime a chance and feel the fan-service atmosphere on your own.
Overview
Undefeated Bahamut Chronicle, or Saijaku Muhai no Bahamut in Japan, is the Japanese fantasy ecchi harem anime TV series produced by Lerche and directed by Masaomi Ando. The anime was broadcast on AT-X and several networks in Japan starting from January 11 to March 28, 2011. The series contains 12 episodes in total.
The anime is based on the Japanese light novel series written by Senri Akatsuki and illustrated by Ayumu Kasuga of the same name (Saijaku Muhai no Bahamut). SB Creative published the first volume on August 12, 2013, and as of July 2017, 12 volumes have been published in Japan.
The manga adaptation illustrated by Fumi Tadaura has been published by Square Enix and GA Bunko starting from July 17, 2014, and there are 8 volumes so far.
Madman, Sentai Filmworks, and MVM Films licensed the anime series in Australia, North America, and the United Kingdom respectively. The series was published on Blu-ray on April 18, 2017. More information about the anime, you can visit the official anime website in Saijaku.jp.
Parent Guide and Age Rating
Undefeated Bahamut Chronicle contains:
Action: 83%
Mecha: 83%
Harem: 42%
Ecchi: 42%
Drama: 42%
Romance: 33%
Slice of Life: 17%
The anime contains action scenes. Maybe this is one of the coolest things in this anime. I really love the fighting style and the camera angle, it's so attractive. Every time the characters starting to fight each other, or with the monsters called Abyss, they will wear armor that looks like robot-thing by taking out their own sword. So, the action and mecha contain the same percentage. Despite I'm a little confused about this sci-fi and its law, but it's still entertaining to see them fight.
Although being a harem anime, the show is more focused on the plot and battle. There are harem times, where the main male character is chased by hot girls around the school, and several cliche ecchi scenes where the protagonist accidentally entering the girls' bathroom or an air-head girl's sleeping on his side, but these aspects are not very interesting because the protagonist's reactions are easy to guess.
The drama also isn't very attractive, which always focus on main characters and their past, asking the audience to give sympathy. While the slice of life is usually triggering the harem moment just like dating or their normal high school life.
Anime Review
Trailer
Synopsis
Lux Arcadia, a former prince of Arcadia Empire that was overthrown through a rebellion five years earlier, mistakenly trespasses in a female dormitory's bathing area, sees the kingdom's new princess Lisesharte naked, incurring her wrath. Lisesharte then challenges Lux for a Drag-Ride duel. Drag-Rides are ancient armored mechanical weaponry that have been excavated from ruins all over the world. Lux had been labeled as the strongest Drag-Knight, but at this moment he's called the "undefeated weakest" Drag-Knight since he's going to never attack in battle. Right after his duel with Lisesharte, Lux winds up enrolled in the female-only academy that trains royals to be Drag-Knights.
Undefeated Bahamut Chronicles Blu-ray
Released on April 18, 2017


$34.29


BUY NOW
The link above directs to a retail affiliate. AnimeBibly.com may receive a commission from your purchase without adding you any extra cost.
Story
Just like in the synopsis, this lucky guy accidentally enter the women's bath and sees the naked main heroine. After that, the girl challenges him to battle, but the battle was interrupted by enemy that emerge out of nowhere, the girl in danger, and the protagonist saves her. After that, the main heroine develops feeling for him.
I have seen this kind of story so many times in harem sci-fi genre. Why'd you not more be creative? This is the very first problem I've found in this series. It didn't carry the unique or distinctive story line or concept. Just a guy who enrolled the female-only academy, and he's being chased by hot girls. I'm mad! I'm really mad because this kind of a show always making me jealous. Why I can't find this scenario in my real life. hahahaha…
Let's forget my delusion for a while. I just want to tell you about the story line, and how suck it is. First of all, I can't find a good plot. I think this story only focuses on the half-hearted romance, and asking the audiences to give the main protagonist and heroines a sympathy, because of their dark past. So, I think the story itself is horrible, and I don't believe that I spent around $35 for this kind of story.
Artwork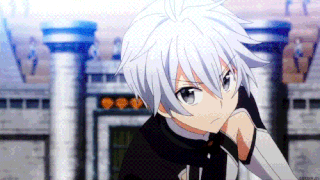 Although the story is horrible, I still can say that the artwork is pretty good. The background is pretty fluid and nice. While the character designs are cute. And my most favorite is the battle or fighting scenes. Wow, this is so cool. I love the camera angle which make the standard mecha battle turns out to be so attractive, just like My Hero Academia.
Characters
But don't be too happy, yet. Because the characters are as horrible as the story, especially the main character. Our protagonist, Lux Arcadia, honestly, I really hate this kind of protagonist. He can't decide anything. He can't take any initiative. But why, all the girls really wants him so bad! – I'm still better, y'know! (Just kidding).
Because of this personality, he failed to develop his character, or even make the heroines get good development. Instead, the heroines are developing their character by their own, not because the protagonist. Lux Arcadia doesn't have goal in his life. He's bringing a hatred against his brother, and that's all, he doesn't want to do anything as long as his brother stay in distance. Once he appears, Lux only staring at him. pfffttt….
Sound
Both opening and ending are not memorable. They are not for me. And the background music, I forgot about them. Sorry. It didn't caught my attention to make me speak like a pro. hahaha…
Overall (53/100)
I can't stand this anime. The plot, the drama, the romance, the fan-services, the harem: they are horrible. But I still can enjoy the fighting scenes. However, I'm not someone who watching an anime just for a fight. I need good story line and interesting character. So, I don't recommend this show. I know, I put my affiliate link in this post, but I don't want my readers watch a horrible show, so you don't need to buy it. But if you want to know how attractive the fighting scenes are, or just want to find good example of a bad protagonist, maybe you can give this anime a shot!