February 14, 2018
Puella Magi Madoka Magica Blu-ray Anime Review (Mahou Shoujo Madoka Magica)
I am not a person who loves watching anime with Mahou Shoujo genre. Just think about it alone had made me feel embarrassed. How could an adult guy watching a Magical Girl type of anime? But after I stumbled upon some anime forums that talking about Puella Magi Madoka Magica, plus I take some research about its age rating and contents, then I ended up watching its first episode.
Well, after I finished all the episodes, I was blown away by its plot and darkness. Puella Magi Madoka Magica is not a standard, simple, plain, or boring magical girl type anime series who usually only focus on justice-beats-evil with cute girls doing cute things, but this anime is beyond that things. That's why this anime is rated for adult only.
Overview
---
Puella Magi Madoka Magica is the Japanese magical girl and psychological thriller anime TV series produced by Shaft and Aniplex.
The anime has been also adapted into several manga series and novel. The Madoka Magica novel was written by Hajime Ninomae and illustrated by Yuupon. It was published by Nitroplus Books on August 14, 2011. For more information, please read the Puella Magi Madoka Magica manga review.
Two games have also been released. The first game titled Puella Magi Madoka Magica Portable is developed by Banpresto for PlayStation Portable and released on March 15, 2012. While the second game titled Puella Magi Madoka Magica: The Battle Pentagram is developed by Artdink released for PlayStation Vita on December 19, 2013.
Puella Magi Madoka Magica
---
Puella Magi Madoka Magica, or also known as Mahou Shoujo Madoka Magica in Japan is a psychological thriller anime TV series produced by Shaft studio and directed by Akiyuki Shinbo. The anime lasted for 12 episodes which are broadcast on MBS and other networks starting from January 7 to April 11, 2011. Madman Entertainment, Aniplex of America, and Manga Entertainment licensed the anime in Australia, North America, and United Kingdom respectively.
Review
Puella Magi Madoka Magica Blu-ray Volume 1
Mahou Shoujo Madoka Magica 
Released on February 14, 2012


$44.49


ORDER NOW
Synopsis
Kaname Madoka and Miki Sayaka were living in peace until they encounter the talking-cat-like creatures Kyuubey and mysterious transfer student Akemi Homura.
Kyuubey presents them a proposal, where he's going to grant any one of their wishes and in return, they will each become a magical girl by selling their own soul, gaining plenty of power to fulfill their goals. However, it's different with their senpai Tomoe Mami who introduce them the magic world, Akemi Homura urges them not to take the offer, saying that everything isn't what it seems.
Story
So precisely what can you anticipate from this anime? Definitely not they normal magical girl story out there. Setting in a futuristic world, the plot started off like most other magical girl anime series. Cute schoolgirls, a bunch of young girls hanging around together, the standard happy care-free life. But that rapidly changed as the pace of the tale significantly increased along with the mood darkens simultaneously. Soon, the audiences are engulfed with heavy hatred and sadness and many emotions that will only leave one hanging and lust for much more. To say, Puella Magi Madoka Magica can be an emotionally driven anime series isn't an overstatement.
Artwork
The artwork and animation for Puella Magi Madoka Magica are excellent, studio Shaft did a marvelous job with the character design and how they contrast the otherwise dark atmosphere. Even though for some it might be the entire opposite, and the characters might decrease your fun of the show, this once again is up to personal choice though. The anime gets truly beautiful if you watch it on Blu-ray. Shaft is proven to rush out their products, but they are also recognized for polishing them up for the BD release. So, when possible, do try and watch this anime on Blu-ray, as the animation is greatly enhanced and adds a lot to the series.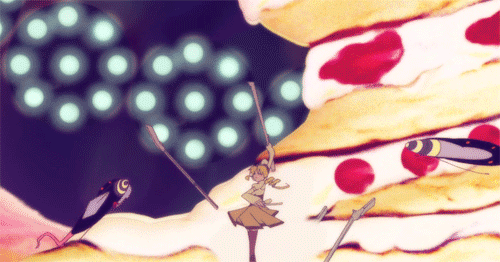 Characters
I can't really say there's a large amount of character development but I can safely state they have huge depth making them more believable and lovable. The depth mostly arises from the background stories of the magical girls' audiences will find out why each girl decided to become a magical girl despite it makes them suffer so much and how they live with their decision afterward. If you're an enthusiastic audience, perhaps you may even manage to see through what each girl signifies symbolically and relate their encounter their experience throughout the series with our own daily lives.
Sound
To be honest, I didn't spot the music very often during the episodes but when I did, it has numerous incredible things. But that is one magical quality about music, there comes a point where you will no longer hear the music, you feel it. And when the plot gets so emotional, the music is equally strong and emotional as well, it is a stunning thing.
Overall (80/100)
I really recommend this Madoka Magica series for any thriller fans who never watched or avoided the magical-girl-themed anime series. Just like what I felt, this anime blown me away because it's not a standard mahou shoujo series. It is a thriller but in cute form. You must be like it!
Before Watching
Puella Magi Madoka Magica includes several theories that are really hard to digest. Especially the time travel and time paradox. If you don't understand about time paradox theory, you may get confused in the last several episodes.