December 1, 2017
One Punch Man Anime Review
First thing you have to think about this anime, don't take this too seriously, and make sure you're a broad minded and turn on your imagination. It's because there are lots of impossible things happened in One Punch Man. You will see Titan who destroy the city B in an instant, which is thousands people died in that tragedy. But as being  a parody and comedy anime series, it would be fine, right?
However, these things are not bad at all. At the first glance, I thought it will be like a cliche shounen super power and hero genre, but One Punch Man surely brings these genres to the next level. Both in story and comedy, you will enjoy every second of it, especially if you're a super hero, action, and comedy genre. I myself, even as being a slice-of-life genre lover, is getting interested with this anime right after I watched the episode 2, and I've drowned deeper into the story.
Overview
---
One Punch Man is the Japanese action, superhero, and comedy anime TV series produced by Madhouse and directed by Shingo Natsume. The series was broadcast on TV Tokyo and other networks starting from October 5 to December 21, 2015 in Japan. Madman Entertainment, Viz Media, Kaze UK licensed the series in Australia, North America, and United Kingdom respectively. The latest One Punch Man Blu-ray was released on April 25, 2017. For more information, please visit One Punch Man Anime Official Website.
The anime adaptation itself is based on the Japanese superhero webcomic written by One as a self-publisher since 2009 of the same name. Here's the original website that published One Punch Man webcomic. The Manga Remake written by the same writer and illustrated by Yusuke Murata is then published by Shueisha's Young Jump Web Comics since June 14, 2012 and 14 volumes have been released so far. More information about remake, you can read One-Punch Manga review for all volumes and future released.
The second season of One Punch Man has been announced. It will produced by J.C.Staff and directed by Chikara Sakurai.
One Punch Man
---
Review
One Punch Man Blu-ray
Standard Edition
Released on April 25, 2017


$33.14


BUY NOW
One Punch Man sets in the world where the superhero and monsters exist. Saitama is a normal adult man who's looking for a job. However, he encounters a monsters who tries to kill a boy instead. When Saitama decided to rescue the boy, he remembered about his dream in the past to become a hero. He abandoned his goal to find a job and starting to train himself for 3 years and possess a powerful abilities. He even could kill the enemies in a single punch, and turns out to be the strongest hero in the world.
Trailer
Story
I recommend you to not judge the book by its cover, or "don't judge the anime by its synopsis". If you read my synopsis version above, you may think that this anime is only a cliche superhero story, however, it has more than that! One Punch Man provides you with standard genre but it's covered by great story telling, great characters, action and comedy! These elements that make this anime is not boring at all. If you still think that this anime is childish or lame, just watch the first 2 episode, and you will find its charm.
Artwork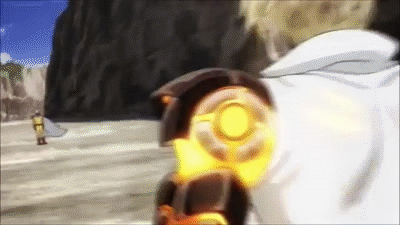 This is the best part of it. One Punch Man contains a masterpiece artwork. The character designs are memorable, the background is great, and the most important is, the action scene animation is so fluid. If you love an anime like Fate/Zero fighting scenes, you will find this anime is great as well. The slow motion and camera angle tend to make the animation more and more attractive.
Characters
Saitama is a lonesome who doesn't care about having friends. But he still wants to save people from evil tyrant and tend to want to be a famous. While Genos is a serious young guy who acts as standard shounen. But when these guys  meet and establish relationships between master and student, the character development is starting to grow.
Sounds
The seiyuu is okay, I don't find any problem with it. The background musics are fit with the situation, especially in the comedy and action scenes. The opening is good, it's created solely for the series. But I prefer the ending that reminds me of 90's anime theme song.
Overall (9/10)
I enjoyed watching every episode of this anime. I don't have any complain. It didn't make me boring even in specific parts of the show. But I still give this anime 9 because I don't thing to re-watch it. I just enjoy all the elements and that's all. However, I still want to recommend this anime to any anime and action lovers!
Parents Guide and Age Rating
One Punch Man anime series contains:
Superpower: 100%
Action: 92%
Comedy: 75%
Sci-fi: 33%
Parody: 33%
Drama: 25%
As being a superhero series, One Punch Man certainly contains 100% of superpower, which means that this series will talk about superpower in every episode. But not all superpower is causing the characters fight against each other. There's an episode where they are only talk about the superpower without having a battle.
Just like what I mentioned above, this superhero series is covered up with comedy. It' so full even up to 75%. While the sci-fi is also needed to explain about the rule and the background of the characters. Talking about character, you can also see that One Punch Man has 33% parody. For instance, you can find a character that similar to Akira Toriyama's Dragon Ball character (Hammer Head) among others. Not only that, this anime also includes the drama element but it's pretty low. The drama involves around the background story and Saitama's relationship with people around him.
That's true if this anime doesn't contain any ecchi or fan-service scenes, but you still can find inappropriate content like violence and profanity. These two points are totally strong so I don't recommend this anime for anime fans under 17 or even children.