June 5, 2017
Ben-To Anime Review – Half Price "Bentou" and Battlefield
Ben-To anime knows its position as a parody genre. A lot of shows suffer from being blatant copies of each other and turn bland by the time the third or even second episode released. However, every single episode of Ben-To is really served with refreshments.
This Ben-To review will only include:
What is Ben-To Anime?
Ben-To Anime Review
Ben-To is a big surprise for me. When I watched it I didn't have any of high expectations for the show to be so good, but I was wrong! I found myself loving Ben-To and wanting for more episodes!
Ben-To Anime
---
Ben-To is the Japanese parody-comedy action anime TV series produced by David Production and directed by Shin Itagaki. The anime was broadcast on TVA and several other networks in Japan starting from October 9 to December 25, 2011.
Ben-To itself is based on the Japanese light novel series written by Asaura and illustrated by Kaito Shibano. 15 volumes were published by Shueisha between February 22, 2008 and February 25, 2014 under Shueisha's Super Dash Bunko imprint.
Several Ben-To manga adaptations have also been released by Shueisha including:
Ben-To Zero: Road to Witch. Written by Asaura and illustrated by Kaito Shibano which run starting from April 21 to October 2011 in Super Dash Manga Program magazine.
Ben-To Another: Ripper's Night. Written by Asaura and illustrated by Kaito Shibano which run starting from December 2011 to October 2012 in Super Dash & Go! magazine.
Ben-To Sankakkei. Written by Asaura and illustrated by Sankaku Head which run starting from October 2012 to June 2013 in Super Dash & Go! magazine.
Ben-To A La Carte. Written by Asaura and illustrated by Kaito Shibano which run starting from December 2012 to June 2013 in Super Dash & Go! magazine.
Madman Entertainment, Funimation and Manga Entertainment licensed the series in Australia, North America and United Kingdom respectively. The latest blu-ray was released on March 14, 2017 by S.A.V.E.
Ben-To Anime Review
---
Synopsis
While innocently approaching for some half-priced Bentou, Satou Yoh finds himself beaten up on the floor of a supermarket. He soon finds out that getting half-priced bentou can be an all-out brawl between customers. Satou then invited to the Half-Priced Food Club in his school by one of the top fighters, Yarizui Sen, so as to train to compete in the battle field.
Story
Ben-To's main appeal can be its dramatic fighting sequences and David Production does well. Don't concern the absurd premise, and don't also be frustrated by the large number of cliches, considering this is an action and parody show. You will find the kuudere girl, the preverted girl, the Yaoi fans girl, the yuuri, and others. However, what exactly Ben-To does is something stunning. It's really rare to find a work so understanding and fun of its tropes and Ben-To does it well.
Artwork
Ben-To is shockingly well animated. The fight and battle scenes are choreographed very well, and you will find the large number of character designs which each of them get their own style. There is also significant number of fan-service, if you are someone who into that kind of thing.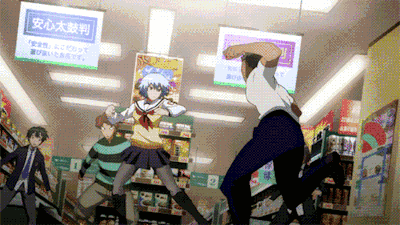 Characters
You will find a number of characters that are great and they all have a back story. My favorite one is Yarizui Sen aka The Ice Witch. But the 4 main characters are also fantastic with unique personalities and truly hilarious even the supporting characters.
However, my only problem is Shiraume Ume aka ByeBye. I feel that this character is really annoying, a violent hentai who is constantly after another girls. Despite if she doesn't appear in the series, the anime and story development will remain the same.
Sound
Well, the ending turns out to be one of my favorite songs. While the background musics are really fitting well. You will find the supermarket soundtrack which is always played every time the fighters have gathered and prepare to fight for the half-price bentou. You can also find the BGM with African tribe or India style in the comedy scenes.
Overall (75/100)
Ben-To is really enjoyable and entertaining series for the comedy fans. The seiyuu and BGM, the characters, and the plot with action are really great. I love this series and wanted it more. However, I would like to give this series 85 if only the violent Ume was not there and got her own episode. She doesn't give any effect on the story, rather ruin it with repetitive joke.