November 18, 2017
Aria the Scarlet Ammo Anime Review (Hidan no Aria)
Aria the Scarlet Ammo comes with just about every cliche harem parts on the cover. The idea aimed at a special occupation in order to be unique, the characters strip and trip arbitrarily, meant for fan service, violent retribution for accidental infringement, archetype heroines, visible tsundere stuttering, standard high school student with unknown special abilities, the main male character is surrounded by cute girls who are in love with him for no actual reason…
However, the central idea is considered exciting. It is set in a high school that trains mercenaries, along with the students undergo several deadly training and get credits through real missions and quests. Then again, you'll also find lots of foolish concepts taking place, like all of them being butei (combat detectives), the Hysteria Savant Syndrome, and the reality that almost every character is descendant of the legendary historical and fictional characters including Lupin, Sherlock Holmes, Jean d'Arc, Tooyama Kinshirou, Himiko, and Count Dracula. It can get awkward to watch after a while.
Overview
Aria the Scarlet Ammo is the Japanese action and harem anime TV series produced by J.C.Staff and directed by Takashi Watanabe. The series was broadcast on TBS and other networks in Japan starting from April 15 to July 1, 2011. For more information, you can visit the official anime website in Japanese.
The series itself is based on the Japanese light novel series written by Chuugaku Akamatsu and illustrated by Kobuichi of the same name. It has been published by Media Factory under their MF Bunko J imprint since August 25, 2008 and as of November 18, 2017, there are 25 volumes in total.
A manga adaptation illustrated by Yoshino Koyaka has been published by the same publisher and started serialization on September 26, 2009 in the Monthly Comic Alive until today. There's also a spin-off manga titled Aria the Scarlet Ammo AA written by Shogako Tachibana which began serialization on November 5, 2010 in Square Enix's Young Gangan Magazine and 12 volumes has been published.
A spin-off of manga adaptation has been also adapted into anime. It's produced by Doga Kobo studio and directed by Takashi Kawabata. Aria the Scarlet Ammo AA was aired on AT-X and other networks in Japan between October 6 and December 22, 2015.
Madman Entertainment, Funimation, and Manga Entertainment licensed the anime series in Australia, North America, and United Kingdom respectively. While Aria the Scarlet Ammo AA is licensed by Madman and Funimation in Australia and North America respectively. The latest Blu-ray has been released in April 2017.
Aria the Scarlet Ammo
Touyama Kinji is a high school student at Tokyo Butei High, some sort of universal educational center which generally trains its students to become tremendous cops and mercenaries. Kinji is very standard in his school, tired of guns and battle, and truly only wishes to get away and live a normal life. It looks like it's going to be slightly complicated for him given that he has inherited a family trait that allows him to turn into a Japanese equivalent of James Bond, any time he is turned on. His chances of avoiding Butei High go from slim to pert-near extremely hard when tsundere classmate Kanzaki Aria drops into his life and demands him to be her slave (partner).
Aria the Scarlet Ammo Blu-ray
Limited Edition
Released on October 23, 2012


$34.99


BUY NOW
Review
Trailer
Story
The story comprises one impossible event after another. The main characters and villain's actions hardly ever make any sense. It will become so terrible that a good guy would point the gun at the villain and say similar to "there is no other way, just give up now!", but the villain just escapes without getting shot. I really had no idea why this series would have to be about detectives as there were almost no thinking happening.
It can be more like charge in first and see what happens next. It is also really ridiculous all the characters were carrying the gun and shoot around aimlessly in the school campus and class, and everything is bulletproof so nobody gets shot. However, the jokes are pretty good but repetitive, with the main male character getting into ecchi condition with random cute heroines.
Artwork
The artwork in this anime is good enough, considering it was aired in 2011. The main heroines, Kanzaki Aria, is attractive, unique, and memorable. The other heroines are also cute and well drawn. Despite the animation could be stiff and it seems that low budget, but there are numerous excellent slow-motion action scenes when it comes to the action genre.
Characters
The characters are extremely unanticipated. They surely are not the kind of characters you would count on in these types of genres. But putting the expectations apart, the characters do meet the events perfectly and I completely enjoyed the personalities processed in the characters. At first, there is not much character development, however, as the story moves along also do the characters and they start to mature more after each arc. This is what I enjoyed the most from the series.
Sound
The background, sound effects, and music provide the storyline perfectly. They boost action just as much as to comedy scenes. The seiyuu can be excellent. However, the opening theme is quite generic D-list female pop-star anime, but the ending theme contains rock genre and I think it's better than the Opening theme.
Overall (7/10)
Aria the Scarlet Ammo could be the funny anime series with good characters, voice actors, and action. However, the storyline and plot isn't something great. It's filled with boring arcs and unnecessary fan-service. But overall, this anime is very enjoyable.
Parents Guide and Rating
Aria the Scarlet Ammo and OVA are containing:
Action: 54%
Comedy: 77%
Romance: 46%
Ecchi: 38%
Slice-of-Life: 31%
Super Power: 23%
Drama: 38%
Violence: 8%
Horror: 8%
Just like in the premise, Aria the Scarlet Ammo must contain the action scenes. Most of the battle scenes are based on the gun-battle and hand-in-hand combat. However, several characters also possess with special abilities or superpower.
The comedy aspects are repetitive and always triggered by ecchi things. You can also find romance in this series. At first, it's like triangle relationship, but as the story progress, the harem part started to emerge. Slice of Life is very minimum, just like the drama. You can see the school life or even unplanned date, and also several character's backgrounds for the drama.
Please note that this anime is also contained the violence, where one character is persecuted in the last episode. While the horror is only showing up in the OVA.
Aria the Scarlet Ammo AA
Aria the Scarlet Ammo AA, or also known as Hidan no Aria AA in Japan is the spin-off of Aria the Scarlet Ammo. It centers around new character name Mamiya Akari who wants to be Aria's mamica (assistant). Akari really idolizes Aria and wants to become like her, even she tries to submit mamica proposal to Aria despite she knows that her ability is below average. However, surprisingly Aria seems very interested in her and gives her a test.
Aria the Scarlet Ammo AA Blu-ray
The Complete Series
Released on April 18, 2017


$43.49


BUY NOW
Review
Trailer
Story
The story is boring. It's not like an actual plot and only an episodic yuri fan-service which each character fawning over each other. Once the story jumps into the real plot, around 3 last episode, however, the story just feels like some forced. So far, I can find something excited or great in the story or plot line. It's boring and just showing how cute the characters are.
Artwork
The artwork may be the strongest point of the show. It's better than the original series. The characters design are cute, even Aria looks cuter than in the previous series. The animation is smooth and the backgrounds are decent. No complaint here.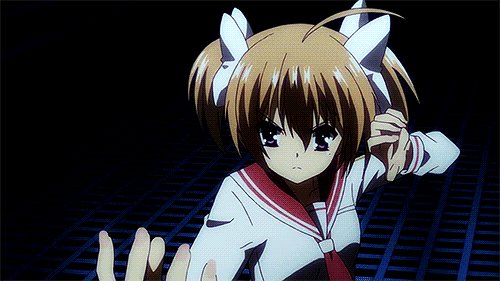 Characters
There is huge difference between the original series and this spin-off. As you know that while Aria is a tsundere but a bad-ass girl who can take enemies down whenever she fights against them, while Akari is just a generic useless main character who has mysterious dark past. Set the dark past aside, the today's Akari is really annoying. She's an air-head girl who cares nothing except Aria and only brings troubles to others. She doesn't care about her surrounding, her friends, even her little sisters. But weird enough she got so many loves from everyone in this series.
The other character, however, they look gorgeous and cute. We can find the onee-sama type girl, the yandere, the imouto-type, the ojou-sama type, and the idly loli girl. They interact with each other and got good development. However, once they interact with Akari, it's just like a one-sided conversation.
Sound
The opening is great, it has rock vibe just like the real action and fight anime genre. But the ending theme turns out to be moe or idolish genre, where it really fits with the series' face, Yuri. Anyway, the background music is generic and even I don't remember how they sound right now.
Overall (4/10)
If you love the original series, especially because its humor, I will never recommend this show to anyone. The joke taste is totally different from the original one and I really can't enjoy this show at all. But if you want to try the different atmosphere of Aria, where includes the Yuri things, maybe this show could lead you to the right Yuri path.
Parents Guide and Rating
Aria the Scarlet Ammo AA consists of:
Action: 58%
Yuri: 42%
Slice of Life: 33%
Comedy: 17%
Fan-service: 17%
Drama: 17%
Mecha: 8%
The series is an action genre, but the action scenes are really boring without Aria. Yes, I mentioned that the animation is great, the artwork is awesome, but not for the action. The anime seems more focus on fan-service, unlaughable comedy, and yuri aspect. There are some fan-services who show us their body or pantsu. I even have no idea why this series should have undressed scenes whenever the girls get attack from their opponent. It's Aria the Scarlet Ammo, not a trashy ecchi anime! Worst yet, the mecha thing comes out in the last episode which ruins everything, ruins the story who already cracked!
Since the anime includes yuri that's a taboo thing in several countries, and also some fan-service, this anime is slightly safe for teens – 13 or older.