January 15, 2018
Free! – Iwatobi Swim Club Anime Review
So as you could possibly anticipate I had quite low expectation watching this show. I'm talking about a swimming anime with male protagonists and friendships. I thought I was going to get nothing but male fanservice, unneeded stripping, silly illogical characters who jump at any chance to remove their tops or even bottoms and show off some half-naked body! But, here again, don't judge the book by its cover, and don't judge the anime by its trailer.
Surprisingly, in contrast to other of KyoAni's works like K-On, which is anime about cute girls doing cute things, this one is about something. Yeah, there's certainly a common message that's substantial. Sure, the fanservice will be there but it is nowhere close to the equivalent we would get from another show. I mean, this is swimming show, so it's natural for people to go half-naked. In other words, the fan-service is pretty natural. Free!, on the other hand, offers bodies that any regular swimmers would have.
Overview
---
Free!, or also known as Free! – Iwatobi Swim Club is the Japanese anime TV series sequel to the light novel written by Kouji Ouji and illustrated by Futoshi Nishiya. The light novel was published by Kyoto Animation between July 8, 2013 and July 2, 2014. It has 2 volumes so far.
The second season of Free!, which is a sequel to the first season of anime titled Free!: Eternal Summer was aired in 2014. It has also been announced that the 3rd season of Free! will be aired in Summer 2018.
There are also 2 anime films and 1 film series. The anime films titled High Speed! -Free! Starting Days- was released in 2015 and Free! -Take Your Marks- was released in 2017. While the anime film series titled Free! -Timeless Medley- was released on April 22, 2017 for part 1, and July 1, 2017 for part 2.
More information, please visit the Free! anime official website.
Free! – Iwatobi Swim Club
---
Free! – Iwatobi Swim Club is the first series of Free! and acts as a sequel to the light novel. The anime was produced by Kyoto Animation and directed by Hiroko Utsumi. The anime was broadcast on Tokyo MX and other networks in Japan starting from July 4 to September 26, 2013. Crunchyroll and Anime Limited licensed the series in North America and United Kingdom respectively. Free! – Iwatobi Swim Club runs for 12 episodes.
Review
Haruka Nanase has a love for water along with a passion for swimming. In elementary school, he competed in and won a relay race with his three best friends: Rin Matsuoka, Nagisa Hazuki, and Makoto Tachibana. Right after claiming triumph at the match, the four friends went their different ways. Years later, they get back together as high school students. However, Rin could not care less about returning to the way things used to be. Not only does he attend a different school, but the sole thing important to him is showing that he much better swimmer than Haruka.
As soon as the bitter reunion, Haruka, Nagisa, and Makoto choose to form the Iwatobi High School Swim Club, but they will require a fourth member if they hope to be a part of the upcoming competition. Enter Rei Ryuugazaki, a former member of the track team who Nagisa recruits. As the time to compete for draws near, the four develop a close bond while training strongly to come out on top and settle things between Haruka and Rin once and for all.
Free! – Iwatobi Swim Club Blu-ray
Limited Edition Box Set
Released on May 9, 2017


$45.79


BUY NOW
Trailer
Story
The plot offers numerous twists, but what I truly like is that the past is highly linked to the present. The 4 main characters: Haruka, Rin, Nagisa, and Makoto are childhood friends who share the same passion: Swimming. Life had an interesting way of gathering them all, tearing them apart, and the gathering them back together once again. I am going to point out more about the characters in the characters section. Although the action may get somewhat boring from time to time, there's a lot of humor which I find this funny enough to make me smile and a little laugh.
Artwork
The animation and artwork are one of the finest looking anime I have ever seen. Kyoto Animation might not be known for having stellar stories… The Disappearance of Haruhi Suzumiya, Clannad, as well as Love, Chunibyo & Other Delusions!, being the exceptions… but it always provides excellent animation to the table, and from that viewpoint alone, this can be a greatest looking show they have ever produced. The character designs and backgrounds are spectacular, the attention to detail is amazing, the characters are prepared for a complete range of stylish fluid movement, and the water art was totally great.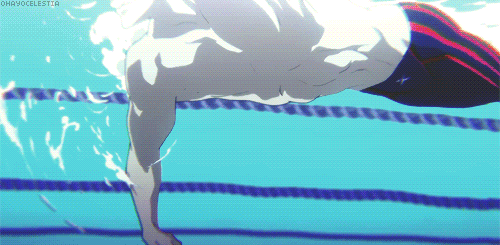 Characters
Along with the lack of character development, I feel that the characters didn't have a lot personality to develop in the first place. In Free! we can see several quite common character tropes with a small quirk added to them to make them much more humorous. Haru is the 'tsundere' who has a romantic love for water. Makoto is the big brother's type who really easily scared. Nagisa is the shouta who's quite dense. Rin is the cool guy until he speaks, and Rin who gets frustrated easily. I will admit the troupes worked nicely with each other and they served as ideal fuel for a great chuckle here and there. But for me, all of them were quite two dimensional that relied on their quirk.
Sound
I pretty much don't remember any of the soundtrack, opening, or endings which most likely means that there was nothing memorable but the seiyuu performed the characters properly.
Overall (71/100)
There are just a few small things that annoyed me at some points, though nothing which the rest of the show could not make me overlook. For the rest, I can say that I am happy I got to watch this anime as it made me smile and laugh while still following a fascinating, emotional, as well as a thrilling storyline, and coming to keep in mind the vital importance of things like sports and friendship.